EEE Student Attends Climate Talks in Glasgow
EEE sophomore Andrew Fagerheim will be attending the United Nations COP26 climate conference in Glasgow, Scotland this November as a delegate for The Wild Center's Youth Climate Program.
Oct 22 2021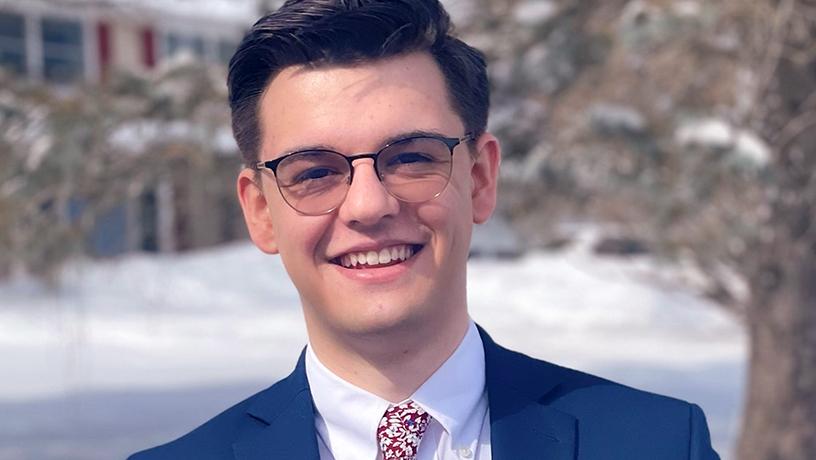 World leaders will convene in Scotland for critical climate change negotiations Oct 31 – Nov 12 for COP26, the 26th United Nations Climate Change Conference of the Parties, to seek solutions to adapt to and mitigate the ongoing effects of climate change. Andrew Fagerheim, a sophomore in the Earth and Environmental Engineering Department, will be in attendance as a delegate for The Wild Center, a science museum in the Adirondacks.
Fagerheim has worked with The Wild Center's Youth Climate Program for over five years on local climate projects, growing the global youth climate summit network, and engaging young people in their local governments, both in his hometown of Homer and across Upstate New York. While attending the conference, Fagerheim and The Wild Center — one of only two museums worldwide to hold observer badges to COP26 — will focus on elevating youth voice at the international level, advocating for the importance of climate change education, and raising awareness for The Wild Center's globally adopted youth climate summit model.
"This is a critical time for international cooperation on climate change, which makes the participation of youth all the more important," Fagerheim said. "I am excited to represent the work of The Wild Center and I hope that our delegation can make COP26 more accessible and relevant to our growing network of passionate youth climate advocates."
To stay updated on the trip, visit The Wild Center's Climate Connection — COP26 hub for bios, interviews, and personal reflections from each of the delegates, including Fagerheim.