Report Analyzes Cradle-to-Grave Carbon Emissions for 1,100 Products
Jun 15 2016
Life Cycle Breakdown Identifies Where Carbon Cuts Needed Most
What data analytics did for baseball it could do for the environment by shrinking the carbon footprint of thousands of consumer products. With data from each step in a product's life cycle, companies are starting to pinpoint where carbon emissions are greatest to redesign their products and reconfigure operations to cut carbon and save money.
To explore the benefits of life-cycle analyses, Christoph Meinrenken, a Columbia University researcher and chief data scientist at CoClear, a sustainability analytics firm, analyzed emissions data for 1,100 products made by 350 companies.  He will present his results on Wednesday at the Sustainable Brands conference in San Diego.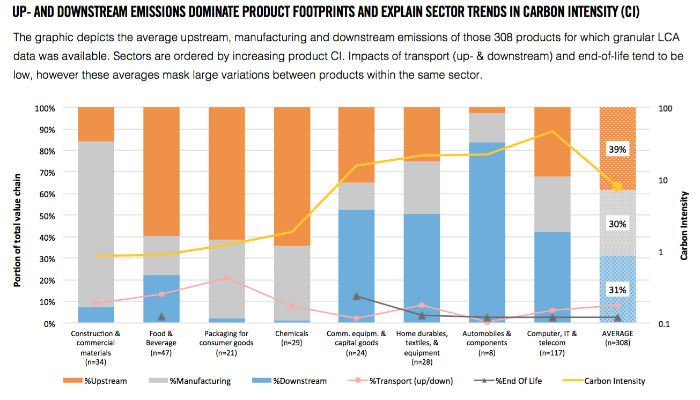 The agriculture-intensive food and beverage industry has a relatively large "upstream" carbon emissions profile compared to the automobile and information technology industries where emissions are concentrated "downstream," at the consumer level. (Erika Whillas/CoClear)
In what may be the first cross-sector analysis of its kind, he and his colleagues at CoClear found that more than two-thirds of overall emissions in their sample came from outside company operations —energy consumed "upstream," during the growing and making of raw materials, or "downstream," by consumers using their products. The food and beverage industry, which relies heavily on agricultural inputs, had one of the highest upstream emissions while the IT sector, with its energy-guzzling screens and computers, had one of the highest downstream emissions.
"Only by comparing upstream and downstream emissions can you find the hot spots that tell you where you can eliminate the most carbon," said Meinrenken.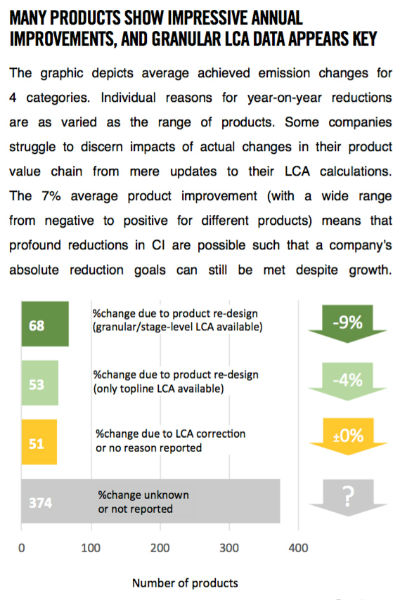 Products that included a detailed breakdown of carbon emissions achieved a 9 percent decline in total emissions while products that only reported final carbon output saw a lower, 4 percent decline. (Erika Whillas/CoClear)
They also found that companies that had undertaken life-cycle assessments of their products were more successful at redesigning their products to be less carbon intensive. They compared the emissions of 68 products with granular life-cycle assessments with 53 products whose total emissions had been calculated but not broken down.  The products with more detailed information showed an average 9 percent drop in emissions a year later compared to 4 percent for the group that lacked this level of detail.
Bloomberg was among the companies reporting steep carbon reductions. A redesign of the keyboard on its terminals in 2011 led to a 57 percent drop in carbon emissions by using fewer materials and improving energy efficiency on the consumer end, Bloomberg reported.
The data was provided by CDP, a London-based nonprofit that works with the private sector to measure, disclose and reduce emissions, and makes this data available to researchers. The 350 companies gave CDP the data used in the report as part of a supply chain survey they participated in.
"Some companies have a high level of information from their suppliers while others are just beginning the journey," said Sally Paridis, CEO of CoClear. "This set of CDP product-level data benefits any company that wants to understand where their carbon intensity is likely to be highest." 
Founded in 2013, CoClear has developed software that lets companies quickly compare the costs and benefits of making a product more sustainable. Its "fast" life cycle analysis methodology was first applied to carbon emissions and later expanded to include energy and water use, waste and corporate financial metrics so that environmental benefits and financial costs could be weighed side by side. Its clients include Ben & Jerry's and a major athletic footwear and apparel company.
Meinrenken is an environmental researcher at Columbia Engineering and a member of the Data Science Institute and Earth Institute.
Download the report: Achieving Higher Value Chain Efficiency Through Product Life Cycle Analytics
Further reading: Software to Pinpoint Where Sustainability and Profits Meet
— Kim Martineau