Professor Ponisseril Somasundaran Elected to National Academy of Inventors
Jan 25 2017 | By Holly Evarts
Ponisseril Somasundaran, LaVon Duddleson Krumb Professor of Mineral Engineering in the Department of Earth and Environmental Engineering and a world leader in surfactant science, has been elected a 2016 Fellow of the National Academy of Inventors (NAI). He is one of 175 new fellows, chosen for demonstrating "a highly prolific spirit of innovation in creating or facilitating outstanding inventions that have made a tangible impact on quality of life, economic development, and the welfare of society." Together, the fellows are named inventors on 5,437 U.S. patents.
"I have always admired inventors, and so to be admitted to this elite group is a dream come true for me...I am very humbled by this honor and hope to continue to live up to its standards."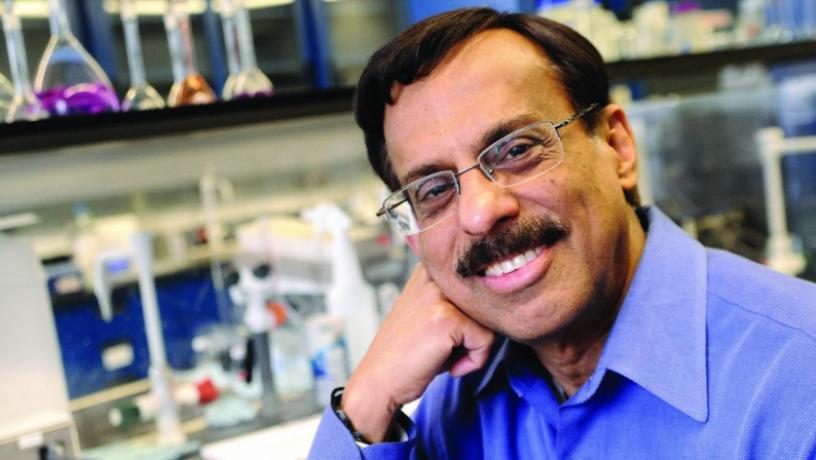 Somasundaran uses his expertise to take on problems as wide-ranging as the enrichment of scarce minerals from ultra-lean ores, the impact of cigarette smoke on lungs, noninvasive ways to diagnose plaque formation in the heart, the cleaning of oil spills, and the behavior of nanoparticles. Increasingly focused on sustainability, he is looking at the "big picture," studying the full scope of a product's lifecycle, from manufacture and shipping to use and disposal, and inventing ways to reduce waste. For example, liquid soaps and detergents contain large amounts of water. Somasundaran has been working on reducing the amount of water in these products to lower the amount of packaging they require and the amount of fuel needed to ship them. He has applied a similar water-saving approach to mineral processing and mine tailing treatment by developing chemicals that require less water consumption.
"I have always admired inventors, and so to be admitted to this elite group is a dream come true for me," Somasundaran says. "I am very humbled by this honor and hope to continue to live up to its standards."
Somasundaran's team is currently working on a broad array of projects, including addressing the challenging problem of renewable energy storage by developing robust, earth-abundant electrocatalysts, such as a polymer-copper composite catalyst, to convert carbon dioxide into fuels. They are developing cost-effective, recyclable sorbents to remove lead from drinking water, a critical public health issue in Flint, Michigan, and other communities. They are also designing a technique to deliver drugs through the impermeable blood-brain barrier by creating nano-droplets that expand upon ultrasound-directed evaporation of the droplet material. This evaporation expands the blood vessels along the blood-brain barrier and enables administration of drug molecules.
Somasundaran, who was named to the National Academy of Engineering in 1985, is the founding director of the Langmuir Center for Colloids and Interfaces, a research center at Columbia that brings together experts from mineral engineering, applied chemistry, chemical engineering, biological sciences, and chemistry to probe complex interactions of colloids and interfaces with surfactants and macromolecules. He was also the founding director of the National Science Foundation Industry/University Cooperative Center (1998). He is a member of the National Academy of Engineering (1985), the Chinese National Academy of Engineering (1998), the Indian National Academy of Engineering (1999), the Russian Academy of Natural Sciences (2000), the Balkan Academy of Science on Mineral Technologies (2009), and was named a Foreign Fellow of the Royal Society of Canada (2012). In 2014, he was appointed to the EPA Board of Scientific Councilors and serves as chairman of its Chemical Safety and Sustainability and Hazardous Risk Assessment committees.
Somasundaran has received numerous awards, including, most recently, the 2017 AIME (American Institute of Mining, Metallurgical, and Petroleum Engineers) Presidential Citation Award, which recognizes extraordinary and dedicated service in furtherance of the goals, purposes, and traditions of AIME. Other significant awards include the National Science Foundation's Alexander Schwarzkopf Prize for Technical Innovation in 2015; the Padma Shri, presented to him by the president of India in 2010; and the Ellis Island Medal of Honor in 1990.
Somasundaran joins fellow Columbia Engineering professors who have been inducted to the NAI in recent years, including Dimitris Anastassiou, Charles Batchelor Professor in Electrical Engineering; Kam W. Leong, Samuel Y. Sheng Professor of Biomedical Engineering; Shree Nayar, T.C. Chang Professor of Computer Science; Gordana Vunjak-Novakovic, The Mikati Foundation Professor of Biomedical Engineering; and Richard M. Osgood, Eugene Higgins Professor Emeritus of Electrical Engineering and professor emeritus of applied physics. The new class of NAI Fellows will be inducted April 6, 2017, at the academy's annual conference in Boston.