Researchers and Industry Partners Chart the Future of Sustainable Energy
Columbia Electrochemical Energy Center's inaugural symposium pointed to the future of energy storage and conversion.
Oct 06 2022 | By Grant Currin | Photo Credit: Timothy Lee Photographers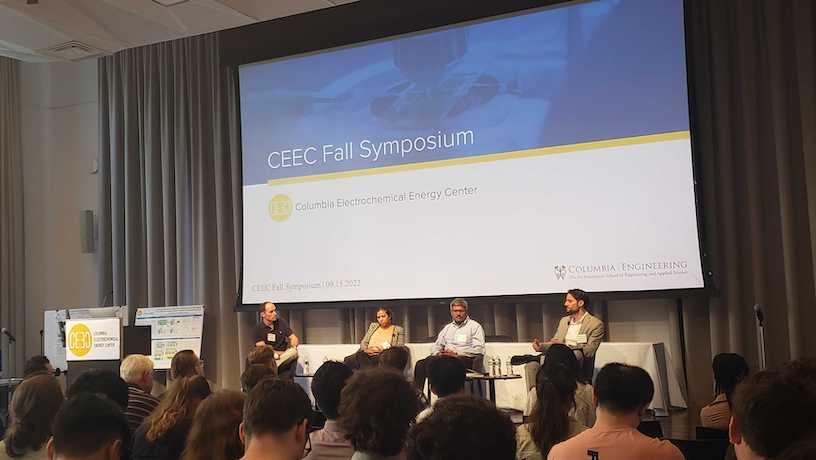 The Columbia Electrochemical Energy Center (CEEC) hosted its inaugural Fall Symposium on September 15 in Pulitzer Hall on the Morningside campus.
"Sometime in the last ten years, there was a point when 'electrifying all the things' went from a question of if to one of when and how fast," CEEC co-director Dan Steingart, Stanley-Thompson Professor of Chemical Metallurgy in Earth and Environmental Engineering and a professor of chemical engineering, told attendees. Many in the audience are committed to bringing about the energy transition as quickly as possible.
A Center that's Changing the Future of Energy
In just three years, CEEC (pronounced "seek") has grown to include ten faculty members and more than 50 PhD students from across Columbia Engineering. The Center is focused on accelerating the adoption of sustainable energy storage and conversion technologies — with more than $20 million in federal funding and further support from charter members GM, Mercedes-Benz, and ICL.
The Fall Symposium featured a keynote by MIT researcher Yang Shao-Horn as well as talks by CEEC-affiliated faculty, panel discussions, and a poster session. The day's events demonstrated the wide range of projects the faculty, students, startups, and industry are undertaking to push the global transition to sustainable energy.
CEEC is a Hotbed for Innovation and Entrepreneurship
One highlight of the day was a panel featuring three CEEC-affiliated alumni who founded startups shortly after earning their PhDs from Columbia Engineering. Marissa Beatty, Rob Mohr, and Jon Vardner are members of the newest class of Activate Fellows. The highly selective program — just 39 entrepreneurs were chosen from a field of more than 600 applicants — supports fellows who are attempting to commercialize scientific discoveries.
"Something special is happening here at CEEC," Andrew Chang, managing director of Activate New York, said in his introductory remarks. Columbia Engineering has "the greatest concentration of Activate Fellows in any cohort we've had."
Learn More
For more information about the symposium, see a copy of the agenda.
Learn more about CEEC on the Center's website.
Click here for more information about Activate New York.